MLTAQ Sunshine Coast Branch
The Sunshine Coast Branch meets twice a term to promote networking among it's members, so coffee and cake is an integral part of this. Meetings are an opportunity to discuss pedagogical and curriculum developments, to share knowledge and support each other.
Our Speech Contest Convenor works hard with a team of volunteers to provide local students with an opportunity to showcase excellence at the MLTAQ Sunshine Coast Branch Speech Contest, held at the University of the Sunshine Coast. The Competitions Convenor coordinates a Poster and Writing Competition each year.
Members meet once each term for a social dinner, enjoying spirited conversation and plenty of laughs!
These events are also listed on the MLTAQ Events Page
Sunshine Coast Branch Languages Speech Contest 2022
Click here to view resources and speeches from the Sunshine Coast Branch Languages Speech Contest.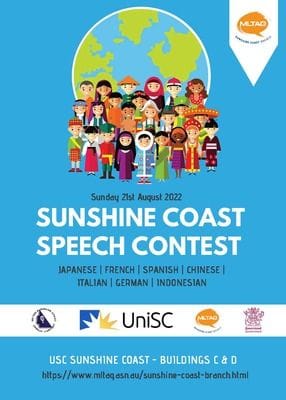 Click
here
to find all the details about the inaugural Spotlight on Languages Film Festival - held here on the Sunshine Coast on November 10, 2022.