Modern Language Teachers Association of Queensland Inc.
Providing professional support and advocacy for language teachers in Queensland
Have you renewed your membership?
It is easy to join or renew your membership. Just click the button below. Membership is based on a calendar year.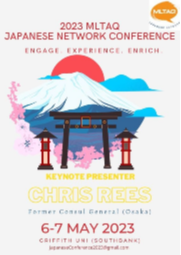 Engage. Experience. Enrich.
Saturday 6 - Sunday 7 May
Registration is open until 21 April 2023! Click here to register
Check out the conference program here
Keynote: Australia and Japan's Relationship
Keynote Speaker: Chris Rees (former Consul General to Osaka & Senior Trade Commissioner - Australian Trade & Investment Commission
All full conference registrations include a ticket to the cocktail reception on Saturday 6 May 2023.
Would you like to involve your students? Consider the Conference Student Art Competition.
A range of additional workshops are running in parallel during the program. Spaces are limited to 15 persons per workshop. These workshops are optional and are at an additional cost. Be aware that the workshops are running parallel each other and participants can only attend one workshop. Click here for information and registration to the parallel workshops
Additionally, a pre-conference excursion is available to 6 people. The excursion is on Friday 5 May. Click here for information and registration.
Questions? Email japaneseconference2023@gmail.com
Interested in becoming a Sponsor or Trade Exhibitor? Click here.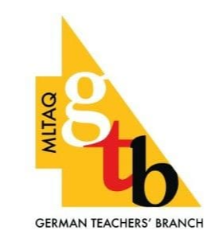 Qld State Conference for Teachers of German 2023
Preliminary Program:
Friday (28 April 2023)
15:30 - 16:00 Registration, Afternoon Tea
16:00 - 16:30 Welcome, Updates Goethe-Institut
16:30 - 17:00 Keynote
17:15 - 18:00 Workshops
18:00 - 20:00 Dinner & Networking

Saturday (29 April 2023)
09:00 - 09:30 Registration
09:30 - 09:45 Welcome
09:45 - 10:15 Keynote II
10:15 - 10:45 Morning Tea
10:45 - 11:30 Workshops
11:30 - 12:15 Workshops
12:15 - 13:15 Lunch
13:15 - 14:00 Workshops
14:00 - 14:45 Workshops
14:45 - 15:00 Farewell
Call for papers:
We invite all educators to submit papers for consideration that relate to their research, experiences and strategies for learning, teaching and the promotion of the German language. Please consider offering a session, or sharing a presentation with another teacher, or encouraging a colleague to contribute to the conference.

Please submit papers for consideration by Wednesday 15 March 2023 via this form.

Registration
Please register here. Registration closes Friday 21 April 2023 or prior if booked out.